Photos from video, film or any other media.

Photos to video, film, computer files, cd-rom and web.

Photo Techniques:
restoration, retouching, editing.

Photo Animation from single photo or set.

Photo synch to narration, fx, music, VOs.

Photo scanning and preparation processing. Plus processing and printing of delicate tasks.
---
Graphics for special projects and non-mainstrim designs.
We produce graphics for the web, intranets and other uses.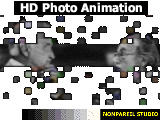 No need to click. This is Consulting and How-to Services Page. Welcome!
PHOTO - GRAPHICS Services
Nonpareil Studio art, innovation and insight will help your projects efficiently!

Animations from a single Photo - Graphic or a set

Synchronization of Photos and Graphics to Music and Narration

Photos FROM or TO Video, CD-DVD-ROM or Film

Consult us for further details!